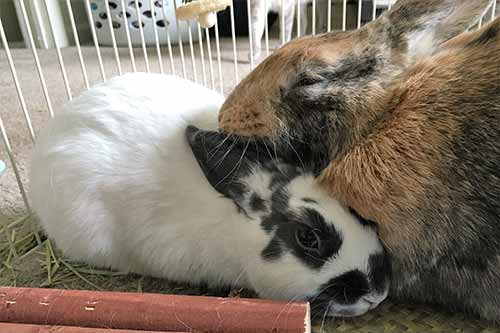 Adopting a rabbit is a commitment equivalent to owning a dog or a cat, but will bring just as much happiness to you and your family. All of our rabbits that are available for adoption have received a vet check and have been spayed or neutered.
Please Note: At KRR we believe that rabbits should be indoor only pets (but outside playtime is okay and encouraged!) Along those same lines, rabbits need A LOT of space. If you intend on keeping your rabbit in a cage or hutch full-time we urge you to reconsider your rabbit's housing situation as we will not approve your application. If you do not currently have a setup that meets these requirements please let us know on your application as we would love to help you plan your enclosure so that you can adopt a rabbit!
We reserve the right to release our rabbits to adopters where we feel they will be best suited. We invest quite a bit of time, money, and love into the rabbits we take in and they deserve more than a cage.
Adoption Fee:
Single Rabbit: $85
Bonded Pair: $150